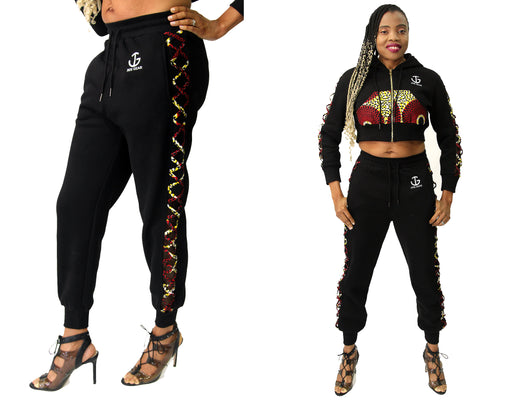 Women's Black Crisscross JOGGER PANTS
JIDE Gear
Regular price $50.00 Sale
Make a statement with our unique Black Jogger Pant that features mesh with Bulleye Crisscross Ankara material on the sides with pockets on both sides.
Styling
Made for warmth and comfort. Fleece lining inside

Roomy pockets for hands and small items
Black Jogger Crop Top Hoodie with mesh Bulleye Crisscross Ankara Material on the sleeve and double front pockets 
FITTING is standard fit and wraps around shape of body

Consider buying the complete set!!
Product Details

Fabric: 50% cotton and 50% Polyester
Hand wash

Imported